Dry Cleaning Sector: Yesterday, Today and Tomorrow

Whilst turning the 20th century, the dry cleaning sector was far away from meeting the expectations of modern society. Because of inferior quality standards, high prices and long waiting periods, the drycleaners were proved to be insufficient in meeting the customer satisfaction. Aware of such requirement of change and development in the dry cleaning sector in response to the increasing and changing demands, CAN Cleaning Services decided to implement in Turkey a brand-new dry cleaning concept for rendering quick, quality and modern services at well-illuminated and clean spaces at affordable prices.
A Success Story: Dry Center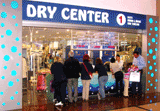 In line with these objectives, the first branch of Dry Center to offer service on the motto of "Modern and Reliable Dry cleaning in 2 hours" was opened in Capitol Mall and attracted great interest before long. Dry Center has converted the great interest it attracted to a great success by the high quality standards it applied, follow-up of technological developments, importance it gave to the personnel training and a service principle resting on Unconditional Customer Satisfaction.
Dry Center, the leader in the dry cleaning sector in Turkey, has grown quickly and successfully to extent its prestigious and excellent service to 13 major cities in Turkey (
Adana
,
Ankara
,
Antalya
,
Aydin
,
Bursa
,
Denizli
,
Eskisehir
,
Istanbul
,
Izmir
,
Kayseri
,
Konya
,
Mersin
,
Trabzon
), providing a great number of its customers with professional dry cleaning, carpet washing, laundry and pressing service. Dry Center extends quickly and successfully its network of branches opened by it or dealers on franchising basis.