Plus Card
The first and single

of the dry cleaning sector from Dry Center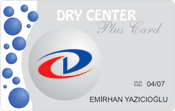 Privileges of Plus Card
Discount facility at all Dry Center stores in Turkey (Adana, Ankara, Antalya, Aydın, Bursa, Denizli, Eskişehir, İstanbul, İzmir, Kayseri, Konya, Mersin, Trabzon).

Discount rate starting from 10% increases depending on frequency of use and is updated each month.
You may benefit from "Product of the Month" campaign applied for our card holder customers.
You may easily inform our stores providing home delivery service your request of Delivery to Your Address by giving your card number.