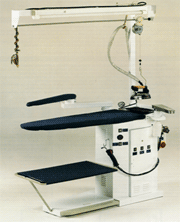 Technical Features

Suction motor

HP

0,5

Board element

W

1000

Iron elemant

W

1000

Boiler capacity

Lt

6

Boiler element

Kw

3,6 - 4,7
Iron table-with universal suction/heated surface. Table with an ironing surface capable of strong suction and anti-carrosion sheet in aluminum, equipped with a boiler suitable to supply steam to two irons.

It comes as standard with the first iron and electric/steam systems are preset for the quick fitting of the second iron that can be done at any time.

A wide range of accessories is available.
MOD. AS/2 - Version of ASP/1 model with no boiler.
OPTIONAL
Water pump(hp 0,5 MP)

2nd steam solenoid valve

2nd electric steam iron

Electronic iron

Steam gun

Spotting inox arm

Sucilon - heated sleeve arm

Light arm

Arm rest for iron + cord guide + neon

Atomizing water tank (inox)

Boiler element 6000 k

Steam tank mod.CV/1 (only for AS/2)

Cold Spotting Group